01:59
We'll be closing this blog shortly but will continue to have live updates over on our global coronavirus live blog here.
Here's a quick summary of everything that has happened in US politics today:
The White House's medical team said that Donald Trump, who is currently being treated for Covid-19 at a military hospital, "has continued to improve" since Saturday. The team confirmed the president had lowered oxygen levels at one point and refused to answer questions about whether the president has suffered lung damage. Continuing to take an "upbeat" perspective, one member of the team suggested that Trump could be released as early as tomorrow.
Trump made an impromptu appearance outside of the hospital this afternoon, waving from inside an SUV to a crowd of supporters who gathered outside the hospital. Concerns were raised about the other people who were in the car with Trump, who was wearing a mask, given that Trump is contagious with the virus.
A Reuters/Ipsos poll showed the widest lead in a month that Joe Biden has over Trump. The poll, taken Friday and Saturday, showed Biden with a 10-point lead over Trump. A separate poll indicated a majority – 65% – of Americans believe that Trump would not have been infected with the virus if he took it more seriously.
A report from the Wall Street Journal said that Trump had a positive Covid-19 rapid test on Thursday but did not disclose it immediately to the public and carried on business-as-usual. Trump told Fox News that night that he was waiting for test results and then tweeted later that night that he has the virus.

01:41
Officials in New Jersey are racing to contact trace 206 guests who attended Donald Trump's rally at his golf club in Bedminster, New Jersey.
After the president announced he tested positive for Covid-19 in the late night after the event, officials have been trying to inform everyone in attendance of their possible exposure to the virus. One obstacle health officials are facing is that the campaign only gave them the email addresses of attendees, which is less likely to get a response compared to addresses and telephone numbers, according to a report from Politico.
The New Jersey Department of Health tweeted on Thursday that officials have already tried to reach out to guests and told them to monitor their symptoms and quarantine if they were in close contact with the president or his staff. The department said that the federal government is also conducting contact tracing of the event.

01:24
Judd Deere, deputy press secretary, just told a White House pool reporter that Donald Trump's appearance in front of Walter Reed Hospital was "cleared by the medical team as safe to do" and said that "appropriate precautions were taken in the execution of this movement to protect the President and all those supporting it, including PPE".
Concerns over the appearance and whether Trump put the other people that were in the car with him, who are likely Secret Service personnel, at risk of contracting the virus have been raised on Twitter. The White House has since emphasized that the ride was short and impromptu.
Trump has reportedly told his advisers that he is bored at the hospital and is tired of watching reports of his hospitalization on television, according to the Washington Post.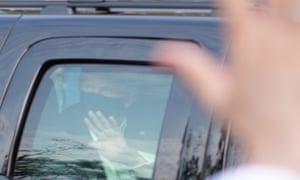 00:56
Sean Conley, White House physician, reportedly told co-workers in the spring, before the president contracted Covid-19, that he was feeling intense personal stress in his current job, according to a new report from the Washington Post.
Conley, a 40-year-old Navy commander, joined the White House medical staff in December 2016 after serving as a Navy emergency physician and serving in a trauma unit in Afghanistan. He was tapped as White House physician in 2018.
The Post reports that those who have worked with Conley believe that the public statements he has given appear to be dictated by politics. "Every statement he is giving appears to be political, dictated by the White House or the president," one anonymous source who has worked with Conley told the Post. "These are not statement a medical doctor gives."
After painting an upbeat picture of the president's health on Saturday, Conley today admitted that the president's oxygen levels had dropped at one point. He said that he was "trying to reflect the upbeat attitude that the team, the president, over his course of illness, has had."
Updated


00:28
Joe Biden tests negative for Covid-19
Joe Biden's campaign just announced the former vice president tested negative for Covid-19 today.
This is Biden's second test since it became public that Donald Trump has contracted Covid-19. Biden and his wife, Jill Biden, both tested negative for Covid-19 on Friday.
Biden's campaign said last night that they will be releasing the result of every Covid-19 test the candidate takes moving forward.

00:16
The Washington Post just published a report on the band of supporters that have gathered outside Walter Reed National Military Medical Center in Bethesda, Maryland, where the president is staying as he continues his treatment for Covid-19.
Dan Zak, a reporter for the Post, describes a scene where Trump's supporters are yelling to passing cars in bullhorns calling for "eight more years" and waving huge Trump 2020 flags.
"Trump is sick, so the rally has to come to him, with all the hallmarks: relentless noise, cultish fervor glazed with folksy politeness, and general masklessness despite the virus that sent a U.S. president to the hospital for the most concerning medical episode since a .22-caliber slug lodged in Ronald Reagan's chest 39 years ago," Zak writes.
It appears that most of the supporters came from the surrounding areas in Maryland and nearby Pennsylvania, which Trump won in 2016, but the Post reports that one supporter from Tampa, Florida, an evangelist, broke news to the crowd that Trump may be out of the hospital tomorrow. "Thank you, Jesus, for healing the president!' he said.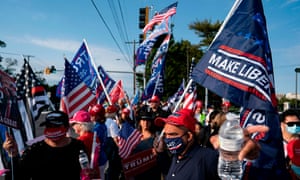 23:55
The White House Correspondents Association released a statement condemning the White House for not informing the press pool that Donald Trump would be making an appearance outside of Walter Reed Hospital this afternoon. The White House told reporters that there would be no more events after 3 pm today.
"It is outrageous for the president to have left the hospital – even briefly – amid a health crisis without a protective pool present to ensure that the American people know where their president is and how he is doing," said the association's president Zeke Miller in a statement.


23:35
White House refuses to release number of officials with Covid-19
Kayleigh McEnany, White House press secretary, took two questions from reporters moments ago and refused to commit releasing to the public how many White House officials have tested positive for Covid-19.
It also appears the White House is trying to deny a Wall Street Journal report from this afternoon that Donald Trump carried on business-as-usual even after he had a positive rapid Covid-19 test on Thursday. The press secretary did not answer questions about tests the president took before the White House announced Trump has Covid-19. McEnany said that the president first tested positive after he held a rally at hid golf club in Bedminster, New Jersey.
Updated


23:19
An MSNBC reporter is saying that attorney general William Barr is self-quarantining at home, though Barr has taken four negative tests since Friday morning.

23:05
Commenting on Donald Trump's appearance outside of Walter Reed Hospital, where he waved to supporters from inside an SUV, the White House released a statement that said the president "took a short, last-minute motorcade ride to wave to his supporters outside and has now returned to the Presidential Suite inside Walter Reed."
Reporters on Twitter are pointing out that it appears that the other people in the car, likely Secret Service detail, were wearing PPE including medical-grade masks and eye protection.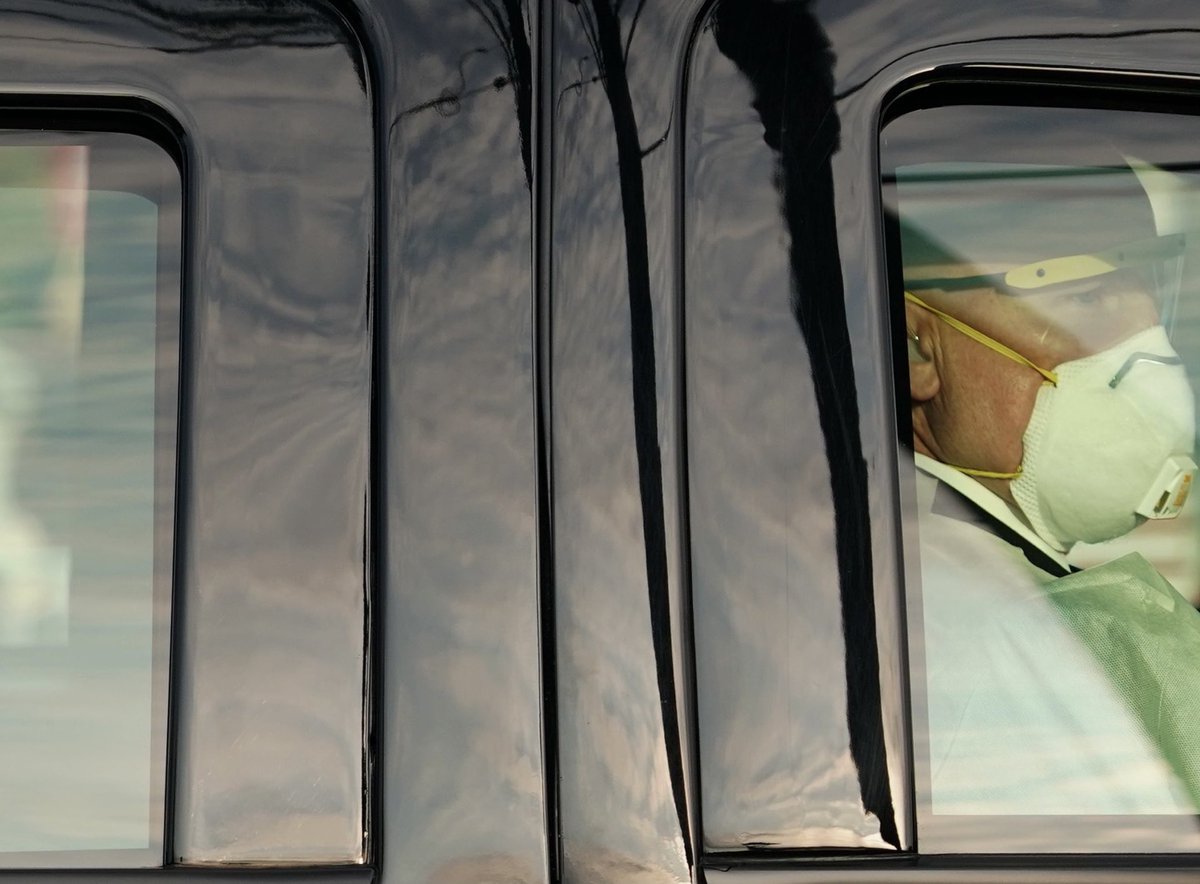 White House pool reporters also mentioned on Twitter that they were told that no other events were happening after 3 pm today and were not informed about Trump's appearance.
Updated


22:56
Reaction to Donald Trump making a surprise, very brief appearance outside of Walter Reed Hospital just moments ago, when he waved to supporters while in an SUV, is starting to appear on Twitter.
While Trump said that contracting the virus has allowed him to understand the virus, he chose to get into a car with other people even though he is contagious, something that multiple health experts have pointed out puts others at risk.
Jonathan Reiner, a professor of medicine at George Washington University, said the president put his Secret Service detail "at grave risk".
"In the hospital when we go into close contact with a COVID patient we dress in full PPE: Gown, gloves, N95, eye protection, hat. This is the height of irresponsibility," Reiner wrote.
One reporter said an anonymous Secret Service source said Trump's appearance was "so reckless, so careless, so heartless".

22:33
Trump makes appearance outside of hospital
It's been a rather bizarre 15 minutes: Donald Trump tweeted a video moments ago that said he was "about to make a little surprise visit" to supporters who have gathered outside of Walter Reed Hospital, where the president has been under medical care since Friday.
In the video, Trump said (seven months into the pandemic) that he's "learned a lot about Covid" and saying that contracting the virus has been the "real school", saying "this isn't the 'let's-read-the-books' school".
Trump indeed made an appearance, but it was a quick drive-by where, inside a car, he waved to cheering supporters. One video on Twitter showed Trump, wearing a mask, waving a giving a thumbs up to the crowd. Reports say the appearance lasted about a minute.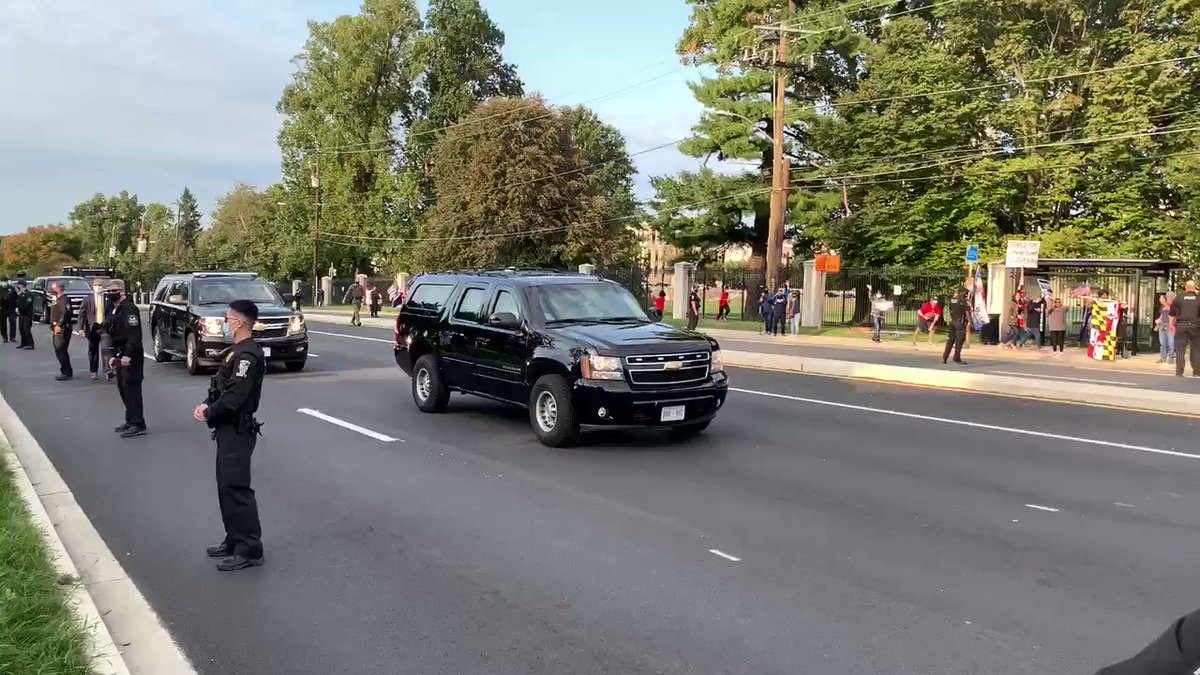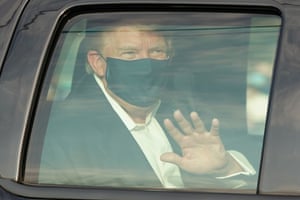 Updated


22:24
The White House did not disclose that Donald Trump received a positive test result from a Covid-19 rapid test on Thursday, opting to carry on business-as-usual until the more thorough Covid-19 screening confirmed the president has Covid-19.
The Wall Street Journal is reporting this afternoon from anonymous sources familiar with the matter that the president attempted to keep the positive test result from the rapid test mum, saying on Fox News Thursday night that he was awaiting test results when the president already knew about his positive rapid test result. Trump tweeted at 1 am that morning that he tested positive for Covid-19.
The Journal is reporting that close members of the president's team have been kept out of the loop about the potential spread of the virus in the White House. Trump's campaign manager Bill Stephien did not know that Hope Hicks, a close aide to the president, had tested positive until news reports came out about her case Thursday night.
"I'm glued to Twitter and TV because I have no official communication from anyone in the West Wing," an administration official to the Journal.
Get the latest news and advice on COVID-19, direct from the experts in your inbox. Join hundreds of thousands who trust experts by subscribing to our newsletter.
Send your news and stories to us news@climaxradio.co.uk or newstories@climaxnewsroom.com and WhatsApp: +447747873668.
Before you go...
Democratic norms are being stress-tested all over the world, and the past few years have thrown up all kinds of questions we didn't know needed clarifying – how long is too long for a parliamentary prorogation? How far should politicians be allowed to intervene in court cases? To monitor these issues as closely as we have in the past we need your support, so please consider donating to The Climax News Room.